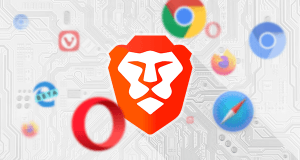 Brave surpassed yet another milestone this year, reaching the number of 8 million monthly active users. The news was followed with a surge in the price of their native Basic Attention Token (BAT).
The price is up by c. 10% since the news was announced on October 16h. At pixel time (09:35 UTC), the thirtieth coin by total market capitalization trades at c. USD 0.227 and is up by 2% in the past 24 hours and by 20% in the past week, increasing its monthly gains to 18%. Moreover, BAT is one of the six coins in the top 30 by market capitalization that have increased in the past year (by almost 8%).
The price has been rising since the drop that followed the September rally, when the price went down to USD 0.14, though this rise came with a number of significant fluctuations. Nonetheless, the last seven days show its highest price in this period of time to be USD 0.23, which it reached on October 15th. It fell shortly to USD 0.20 the next day, but went back on the ascending trajectory again a few hours later.
BAT price chart: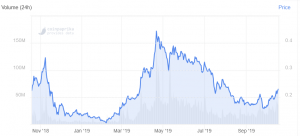 Meanwhile, Brave, the first decentralized browser based on blockchain technology that enables its users to earn tokens as they browse seems to be on the roll. In their announcement from October 16th, Brave said that the "platform engagement is extremely high" and listed their accomplishments so far:
daily active users passed the 2.8 million mark
monthly active users are now 8 million
385 privacy-preserving ad campaigns, generating 97 million ad confirmation events
a click-through rate of 14%, while the industry average stands at 2%
12% of click-throughs result in page visits of 10 seconds or longer
2.36 million 10-second active page visits overall
over 290,000 Brave Verified Publishers (verified content creators), which encompasses 200,000 YouTube creators, 33,000 website publishers or creators, 15,000 Twitch streamers, but also 28,000 Twitter accounts which joined to receive BAT after the announcement of Brave's support for Twitter tipping.
Let's put this "8 million" number in the context. According to the International Telecommunication Union, the United Nations specialized agency for information and communication technologies, at the end of 2018, 51.2% of the global population, which is 3.9 billion people, were using the Internet. Meanwhile, among the global internet users, according to StatCounter, a web traffic analysis website, Chrome takes the largest bite of the market share (63.72%), followed by Safari (16.34%), while Firefox, Samsung Internet, UC Browser and Opera have less than 5% each.
Additionally, Brave says that they've seen "a huge surge in partnerships" following the launch of their opt-in Brave Ads six months ago. "In the wake of privacy scandals, as well as GDPR [General Data Protection Regulation] and CCPA [California Consumer Privacy Act] requirements becoming clear, leading agencies and brands want to transition to relevant, brand-safe, and privacy-friendly advertising," the announcement says, adding that "Brave Ads preserve users' privacy, and reward them with 70% of the ad revenue."
This is not all from this announcement as Brave also said that Intel ran a Brave Ads campaign for Intel Gamer Days 2019, during which ten randomly-selected people that tweeted a campaign message won a Thule-branded Intel Gaming backpack with merchandise from the Brave Store. Furthermore, the Brave Ads Grant was awarded to The Lupus Foundation of America in partnership with The Giving Block, a team of nonprofit strategists and cryptocurrency investors that helps nonprofits to fundraise crypto.
Meanwhile, back in April this year, we reported on several of Brave's successes, while this is also not the first time we see BAT following good news with a jump.