Yesterday, there was a recovery wave in bitcoin price above the USD 7,000 resistance area. BTC/USD climbed above USD 7,200, but it struggled to break an important resistance near USD 7,350. At pixel time (09:43 UTC) it already trades below USD 7,000.
Similarly, there was an upside correction in major altcoins, including ethereum, XRP, bitcoin cash, litecoin, EOS, BNB, ADA, TRX and XLM. ETH/USD is currently above USD 140 and it is struggling to gain strength above the USD 150 resistance. XRP/USD declined below USD 0.215 and the bulls are finding it hard to push the price above USD 0.220 and USD 0.222.
Total market capitalization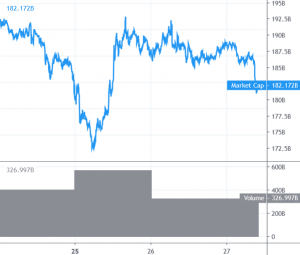 Bitcoin price
Recently, bitcoin price started an upside correction from the USD 6,550 support level. BTC/USD managed to recover above the USD 7,000 resistance area. Moreover, it made an attempt to climb above the USD 7,350 and USD 7,400 resistance levels. However, it failed to gain strength and declined below USD 7,200.
The price is now trading at c. USD 6,927. On the upside, a clear break above USD 7,350 and USD 7,400 is must to start a strong rise. If not, the price is likely to resume its decline below USD 6,800.
Ethereum price
Ethereum price rallied above the USD 145 resistance after it found support near the USD 132 level. ETH/USD even spiked above the USD 150 resistance, but it seems to be struggling to gain momentum.
The price is now trading below USD 145, with support near USD 142. If there is no upside break above USD 150 and USD 152, the price could decline below USD 142 and USD 140.
Bitcoin cash, litecoin and XRP price
Bitcoin cash price is back above the USD 200 and USD 205 levels. BCH/USD is currently trading in a range above the USD 205 level, and it seems like the price is facing resistance near USD 215 and USD 218. A clear break above USD 220 could open the doors for a push towards USD 250.
Litecoin is holding the USD 45.00 support area, but at the same time finding it hard to climb above the USD 47.20 and USD 48.10 resistance levels. On the downside, the main supports are near USD 45.00 and USD 44.40.
XRP price made another attempt to settle above the USD 0.220 level, but it failed. XRP/USD is now correcting gains and trading near USD 0.215. An initial support is near the USD 0.215, below which it could revisit the USD 0.212 support area. On the upside, the main resistances are near USD 0.220 and USD 0.222.
Other altcoins market today
In the past three sessions, many small capitalization altcoins climbed more than 5%, including MOF, MATIC, ENG, ZEN, XVG, DCR, ALGO, STEEM, ZIL, IOST and ARDR.
To sum up, bitcoin is consolidating in a tiny range and setting up for the next break either above USD 7,400 or towards USD 6,550. A clear break above USD 7,400 could open the doors for a new increase in BTC/USD towards the USD 8,000 level.
_____
Find the best price to buy/sell cryptocurrency: