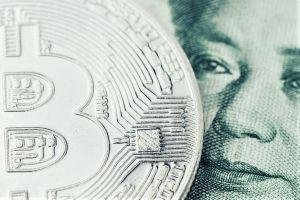 Bitcoin (BTC) price slumped to a six-month low on Friday as China's central bank launched on Friday a fresh crackdown on cryptocurrency trading in Shanghai.
People's Bank of China (PBOC) Shanghai headquarters said in a statement it would crack down on a resurgence of illegal activities around virtual currencies, and cautioned investors not to confuse such instruments with blockchain technology, Reuters reported. The move came a day after financial regulators in Shenzhen launched a similar campaign, it added. Moreover, as reported, the PBOC is preparing to launch its own digital currency.
At pixel time (12:12 PM UTC), BTC trades at c. USD 7,154, dropping by 10% in the past 24 hours and reaching the level last seen in May 2019. The price is also down by 11% in the past month, trimming its annual gains to 59%.
Bitcoin price chart: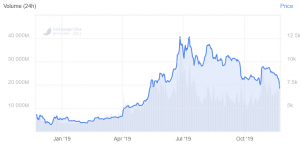 "The important thing to note here is the possible effect of low volume and low liquidity, to which this market is innately susceptible. When there are only a few offers on the table, there's always the possibility that a large buyer, or seller, can move the price with a single order," Mati Greenspan, Founder of QuantumEconomics.io, said earlier this week.
Meanwile, as reported today, while the price is dropping, the Bitcoin mining difficulty and hash rate went up. This has led some market observers to believe that we may not see a mass miner capitulation yet.
Reactions:
#BlackFriday sale a week early | $BTC #bitcoin $7,000 | 50% off the June high ($14,000); 75% below fair value ($28,… https://t.co/MiIu5qMYcc

— Ronnie Moas (@RonnieMoas)