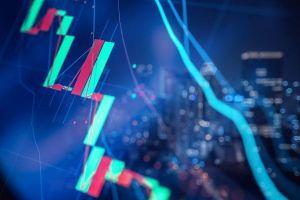 The cryptocurrency market sentiment has tumbled down compared with the previous week, as the combined average 7-day market sentiment measure for the top 10 coins by market capitalization has declined for the third week in a row, from 5.17/10 last Monday, to 4.39 today, according to Omenics, a cryptocurrency market sentiment analysis service.
Most top coins remain lurking in the neutral zone with Bitcoin (BTC) lighting the way with the average 7-day Sentscore of 5.1 (was 5.8 last week), followed by Tether (USDT), which was the only top 10 coin whose market sentiment appreciated last week. It went up a 4.7 last week to 4.9 today. The two are followed by Tron (TRX) - it's Sentscore dropped from 5.4 last Monday, to 4.8 at pixel time.
Sentiment change among the top 10 coins*:
Interpreting the Sentscore's scale:
- 0 to 2.5: very negative
- 2 to 4: somewhat negative zone
- 4 to 6: neutral zone
- 6 to 7.5: somewhat positive territory
- 7.5 to 10: very positive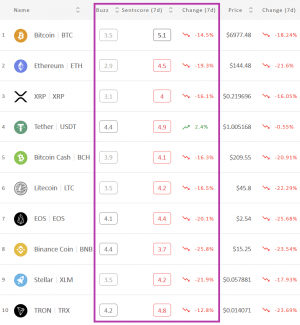 All of the remaining coins have undergone a severe decline in market sentiment, scoring around 10 to 20 percent less compared with last week. Binance Coin (BNB) has suffered the biggeset drop in its sentiment - it went down by more than 25%, all the way to 3.7 compared with 5 scored last Monday. As of now, it is the only cryptocurrency fallen into the somewhat negative zone. EOS, Stellar (XLM), and Ethereum (ETH) went down heavily also - their score went down approximately 20% and settled near the boundaries of the neutral zone. XRP, Litecoin (LTC), and Bitcoin Cash (BCH) are on the verge of neutral Sentscore zone, scoring between 4 and 4.5 out of 10.
Daily Bitcoin Sentscore change in the past week: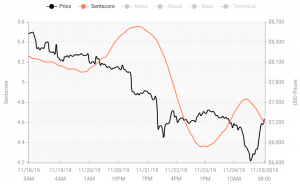 Meanwhile, looking at today's market sentiment, the negative tendencies prevail. Only Tether maintains a sentscore of 5.4, which is still neutral, while other cryptocurrencies remain on the verge of neutral and somewhat negative zones.
Despite that, 8 out of the top 10 coins experienced an increase in the sentiment over the past 24 hours, with XRP leading the way. BNB is showing the signs of hope, too, but it is still rooted in the somewhat negative area.
___
* - Methodology:
Omenics measures the market sentiment by calculating the Sentscore, which aggregates the sentiment from news, social media, technical analysis, viral trends, and coin fundamentals based upon their proprietary algorithms.
As their website explains, "Omenics aggregates trending news articles and viral social media posts into an all-in-one data platform, where you can also analyze content sentiment," later adding, "Omenics combines the 2 sentiment indicators from news and social media with 3 additional verticals for technical analysis, coin fundamentals, and buzz, resulting in the Sentscore which reports a general outlook for each coin." For now, they are rating 39 cryptocurrencies.