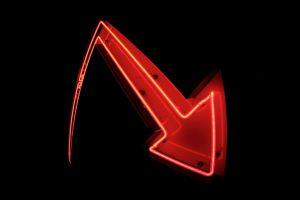 The red sea of the top 30 coins by market capitalization just lost its last green island today, Tezos (XTZ), as the market slump deepened.
The world's most popular crypto, Bitcoin (BTC), continued its fall that has lasted for almost a month now, reverting to its pre-rally levels. However, altcoins followed it down, leaving the absolute majority of top 100 coins in red. Meanwhile, XTZ was the only coin in green among the top 30 earlier today.
Though its price has shown large fluctuations, XTZ, ranked 16th by market capitalization, is maintaining the price above USD 1 and reached USD 1.28 earlier today, when it still was up in the past 24 hours. However, later it turned red and is now (13:04 UTC) trading at c. USD 1.20 and is down by 3% in the past 24 hours.
XTZ price chart: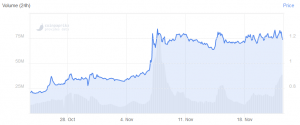 At the end of October, the Tezos Foundation announced it would be tokenizing about USD 25 million worth of a Manchester, UK, luxury property development in conjunction with tZERO. A week later, Tezos price rallied, making XTZ the best performer in the top 100, which coincided with the news from two major cryptocurrency exchanges: 1) Coinbase has begun offering staking rewards to its Tezos customers in most American states; 2) OKEx announced the XTZ staking service and started XTZ spot trading.
Besides that, the Tezos Foundation has been organizing Tezos meetups across the world this month, Tezos Ukraine launched last week, and Tezos Southeast Asia partnered with RF International Holdings in order to promote cooperation in exploring Tezos applications to encourage adoption, they said. Additionally, Swiss primary stock exchange SIX listed a crypto exchange-traded product (ETP) tied to XTZ, issued by fintech company Amun AG.
Furthermore, a press release dated November 19 states that the French Armies and Gendarmerie's Information & Public Relations Center (SIRPA) announced that the Gendarmerie's cybercrime division (C3N) "has been validating judicial expenses incurred during investigations and recording them on the Tezos blockchain" since September. Also, in a recent interview, Bruno Le Maire, France's Minister of the Economy and Finance, said that "the development of the blockchain ecosystem is a priority for the government," while one of the startups that has caught his eyes is Tezos.