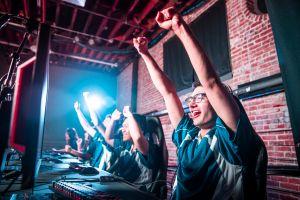 While gaming might become another great way to spur crypto adoption, people won't play games just because they come with crypto, says an investor.
Arianna Simpson, the founder of an investment fund focused on cryptocurrencies and digital assets, Autonomous Partners, tweeted that games are much more than that today: they are virtual world with their own internal entertainment. She shared a few correlated points about crypto in games:
new people are needed "if this industry is to become more than the same group of people talking at one another";
gaming is one of the ways to "usher in a new wave of people to crypto";
users won't adopt games just because they use crypto, as "the average gamer doesn't care about asset ownership or trading (and for those who do, these somewhat exist already)";
crypto is an optional feature in gaming, not the product, and as gamers care about fun, crypto shouldn't be a priority for developers – creating a fun game should. However, crypto can be a major asset to developers;
but tokenized assets can be a tool to improve gameplay, as they enable individual asset ownership, increased transparency, better cost/user experience of trading, etc.
As to how she came to these conclusions, the investor explains that while the dominant model at the beginning of this millennia was pay-then-play gaming, used by the massively popular games such as Call of Duty, World of Warcraft, and Fifa, says Simpson, a rapid shift occurred in just a few years. Already in 2009, a free-to-play (FtP) monetization model, in which game creators (GCs) earn money by selling or issuing in-game assets (via in-game store or loot boxes), hit the market with League of Legends, followed by Dota and Fortnite. "5 of the top 6 games are now FtP," the founder claims.
Simpson explains the economics and psychology behind this: as the game is free, buying a few items voluntarily does not seem expensive, and people are "more likely to make multiple small purchases than one large purchase." Furthermore, the assets are purely cosmetic, not meant to improve performance in any way, but they do "signal expertise."
While most games prohibit markets for in-game assets, so not to reduce in-game spending, Simpson says, the gamers will find a way to exchange the assets for fiat, usually via P2P (peer-to-peer) gifting, asset trading on official exchanges if allowed for c. 15% commission, or the risky third party trading sites. She adds that:
trading likely makes the game less fun;
nonetheless, suitable asset trading is in demand;
trust in gaming is not broken, and GCs don't flood the market with assets or delete user accounts.
While there are people who do not necessarily disagree with Simpson's view, but think it as long term, or something they've been hearing for years, others fully supported her opinions, such as David Nage, Principal at Arca Funds, an investment management firm. He says that he's been talking "about the intersection of gaming like Fortnite & PUBG and the adoption of digital assets for most of this year," adding that "millions of people daily use "in game digital currencies" to buy skins, etc."
I think there's far bigger problems for e-sports around access to lending and payments before we get into secondary markets for assets

— Simon Taylor (@sytaylor) 25 November 2019
Meanwhile, as reported, Jesse Powell, CEO of major U.S. cryptocurrency exchange Kraken, said that a lot of people coming into crypto, do so through video games. Especially young people, who don't even have a bank account, are familiar with digital / virtual value and currency. Blockchain and crypto games have been on the rise, with new crypto games introduced to the players, while a research found that Ethereum-based crypto-games may in fact be gambling.
___
Learn more: Why Video Games Will Drive Blockchain Adoption