So, what happened this week in the Cryptoworld? Bitcoin crashed and the entire market turned bloody. You know, the usual. Until it's not usual and Bitcoin makes one of the biggest move in its history. We found out that Bakkt aims to lure institutional investors with a new product, that Killers are coming for Ethereum, and Adam Back said there's another way to safeguard BTC. In South Korea, eleven giants are teaming up for a government-backed "consortium-type" blockchain network, Binance joined Kakao's Klaytn blockchain project in its governance council, more than 800 companies are doing business in crypto, and Samsung added twelve more dapps to it Blockchain Keystore.
While regulators join forces to tackle global crypto challenges, Ukraine wants to push through crypto regulation 'till the end of 2019, Venezuela authorized Petro-to-fiat trading, and Russia may block Facebook. Speaking of Facebook: Twitter CEO dismissed it as a gimmick, its Libra alternative may be on a collision course with Binance's Venus project, Pentagon agrees with Libra over China - while China makes a major push for blockchain - and Facebook's CEO contradicted himself again, but as the hearing started, Facebook's shares soared, while BTC was nearing a death cross. Meanwhile, Justin Sun is not buying Poloniex, and poorly rated exchanges outperformed the industry's stars. We learned how Brexit might affect BTC, what BTC investing in 2020 will look like, but also about ways and benefits of running your own BTC node. You can also run a full node on your phone, store your seed in a capsule, and earn BTC while playing games, while some of the Ethereum-based gaming is actually gambling.
Now, check out these 20 jokes we've gathered for you, neatly in one place. Enjoy!
__________
Let's do some identification first.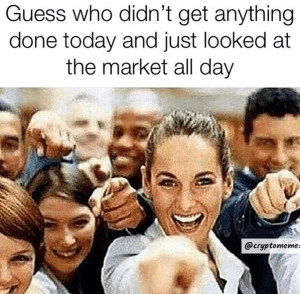 __
And one more identification.
__
Oh, so lovely. Look at all those historic (one day old) shades of red.
Another beautiful day in #crypto. pic.twitter.com/rx17s5ooO1

— Bagsy (@imBagsy) 23 October 2019
__
We still have November and December!
2019 be like... they told me it was going to be like 2017. pic.twitter.com/Nx8T2imdwI

— Panama ₿ (@Panama_TJ) 23 October 2019
__
Well, it sort of did. +30%
__
Expert level.
Bitcoin in 2019

Moving sideways: 91 days (+12%)
Moving upwards: 86 days (+230%)
Moving downwards: 119 days (-42%) pic.twitter.com/VmS6BO0LwB

— Alex Krüger (@krugermacro) 24 October 2019
__
When you find it really, really funny.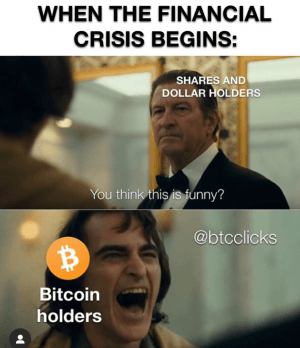 __
Eh, close enough.
I have passive outcomes $Crypto

— i₿rain (@Bitcoin_Brain) 16 October 2019
__
Looks so good...
23 October 2019
__
*Clap* Well done! Try again!
crypto traders trying to reach the break even point in 2019 pic.twitter.com/ZmWS4zCFK2

— CryptoChimp (@Cryptanzee) 20 October 2019
__
Maximum stretch.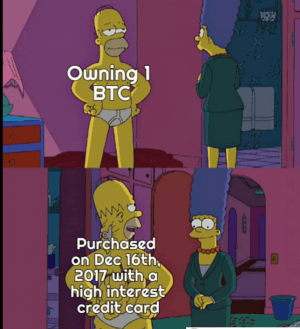 __
When you want pretence and reality jumbled in one photo.
These stock photos are just getting ridiculous pic.twitter.com/OSUdjMx0t0

— Brian Hoffman (@brianchoffman) 22 October 2019
__
Speaking of which... Satoshi Ketamoto and Tom Wright.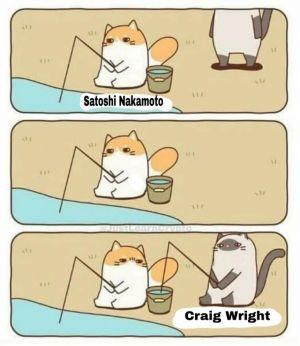 __
Time is relative and the Cryptoplanet is situated near a black hole.
First time you submit a bitcoin ETF proposal vs. the third disapproval. pic.twitter.com/RaDe2Ho57v

— Nathaniel Whittemore (@nlw) October 10, 2019
__
Crypto fan attempt at communication v1:
Trying to talk to my friends and family about crypto after they bought Ripple and Bitcoin at all time highs...

21 October 2019
__
Crypto fan attempt at communication v2:
#memes #memesdaily #blockchain #cryptomemes pic.twitter.com/ujI6DgBwX3

— Brian Dean Nibley (@BDNcontent) 9 October 2019
__
But then! A non-crypto fan response at crypto fan attempt at communication: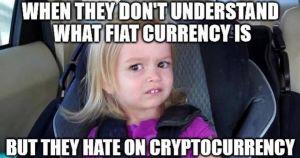 __
When you wonder what Crypto Twitter is up to.
Let me see what my twitter frien.. pic.twitter.com/eRgUgCb3F7

— moon (@MoonOverlord) 21 October 2019
__
And this is one of the reasons.
The majority of crypto Twitter pic.twitter.com/7zKa9wrHjR

— Nick Cote (@mBTCPizpie) October 23, 2019
__
And finally - your weekend crypto song from Lil Bubble, who thinks that the cryptosphere is a ridiculous place (sometimes).