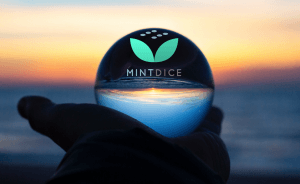 Disclaimer: The text below is a sponsored article.
_________
Pairing its global outreach with equally far-reaching ambition, MintDice has set itself apart as an online cryptocurrency casino platform which aims to serve a broad customer base, just as cryptocurrencies do in the world of digital assets. Staying complacent in the world of emerging technologies is hardly a rewarding approach and this fact prompted the MintDice platform to launch a new business strategy that has the platform expanding its global coverage and delivering uniform gaming experience to various players from all corners of the world.
This journey started out by assuring the global cryptocurrency gaming audience that MintDice is an address that warrants their trust since it focuses on transparency and high quality of its services which are constantly expanded by new games in its portfolio. By the end of 2019, the platform will introduce Pyramid (a skill game) and PowerMint Lottery (a casino game), while the release of the skill game Castle Royale is slated for the first quarter of 2020. Each of the games will be offered as the premier offering in the crypto gaming market and a worthy addition to the existing portfolio of games in the MintDice casino which includes Bitcoin Dice Game, Online Slots, Plinko game, Pyramid Bitcoin Investment Game, Powermint Bitcoin Lottery Jackpot and the Bit.Rocket Bitcoin Crash Game. Early 2020 will also see the launch of MintDice branded sportsbook and e-sportsbook.
Yet, the team of professionals at MintDice does not stop at this, recognizing that appealing to a broader customer base needs to go beyond mere games, moving the platform closer to becoming a versatile investment and social platform for those looking for a safe way of making a profit from the ongoing cryptocurrency revolution. Thus, in addition to casino and skill gaming, MintDice will offer casino bankroll house investments, with high job creation and pay-off potential catering to diverse user profiles.
The launch of the expansion plans does not mean that the existing features on the MintDice will be put on the backburner, as the platform promises to align its future growth with the efforts aimed at enhancing the quality of life features on it. This is particularly important for its social platform component, as MintDice is not only an online cryptocurrency casino but rather a place for the players to hang out, chat and have fun in the process. MintiDice is already working on launching a dedicated program that is supposed to provide incentives for the players to engage in meaningful interactions on the platform. These include not just games or cryptocurrencies, but rather any topic the players may find in line with their interests.
With that aim in mind, MintDice is already hosting a lively engagement thread on BitcoinTalk which it uses as a hub for receiving customers' suggestions. Based on its focus on the community building, MintDice's immediate goals will focus on raising consumer awareness of it via stronger online presence, while the long-term objectives will be largely shaped by the community itself, i.e. its feedback on what MintDice is already doing and any potential requests the audience may have in response to it. In addition, the existing features that receive the highest engagement levels will be given additional attention from the MintDice developer team who are going to fine-tune and polish them to deliver the best possible experience to the customers.
In line with MintDice's goal of becoming a market leader in the low house edge of the online casino gambling market, making sure that the platform offers an environment that promotes fair play is of paramount importance. This led to platform implementing a state-of-the-art AI-resistant gaming engine, paired with Provably Fair technology and the Proof of Solvency wallet from which the funds are sourced to pay the winners. At the moment, MintDice supports cryptocurrency deposits in Bitcoin, Litecoin, Bitcoin Cash, Ethereum, Ripple, Dogecoin, Monero, Dash, PIVX, Blocknet, NEO, Decred, LUX, and ZCoin, with transaction fees varying depending on the currency. All deposits are subject to detailed verification before players are allowed to check their gaming fortune.
MintDice's expansion efforts also have a geographical component which includes attracting traffic coming from players and other potential users from Europe, Asia, and Latin America. As no player gets left behind at MintDice, the platform will offer multilingual services to the users from these regions, helping the platform establish itself with a broad customer base and attract quality traffic in the process.
For more info, visit MintDice website.