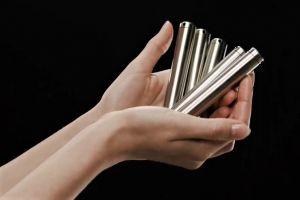 The Cryptoverse is young and, as such, comes with numerous issues, but also produces possible solutions for those issues each day. One of the latest long-term seed word and other valuable data storage options offered to crypto users is a solid metal capsule for autonomous offline storage of data without any third-party involvement.
Besides the previously available Cryptosteel Cassette, which is designed, manufactured and sold by the U.K.-based and privately-owned company Sword Ltd., crypto owners can now also purchase Cryptosteel Capsule. Its creators claim that it can store important information in up to 123 characters and that it's designed to survive extreme conditions.
Cryptosteel Capsule is described as a pocket-sized stainless steel cold storage device designed to store data valuable to its user, and without a need for specialized tools or third-party involvement. A single unit is 102mm long, with a 16mm diameter, and it comes with its own set of stainless steel tiles that have been engraved on each side, with the characters deeply stamped into each tile. The website claims that "Once a desired sequence is locked into a device, it essentially gains the status of offline permanence, featuring resistance to physical damage, including fire, flooding, corrosive conditions, electric shock and impact from accidents."
Additionally, Cryptosteel Capsule is said to be compatible with other cryptocurrency security solutions, such as Trezor and Ledger, and it's compatible with most secret sharing and key generation algorithms. The website claims more than 99% coverage for hexadecimal strings up to 123 characters and random ASCII strings up to 55 characters, but also 100% coverage for:
BIP39 (unabbreviated 12-word recovery seeds or 4-letter abbreviations of 24-word recovery seeds)
Shamir Backup SLIP39 (4-letter abbreviations of 20-word recovery seeds)
BIP32 root keys
WIF (Wallet Import Format) private keys
Monero mnemonic seeds (4-letter abbreviations of 25-word recovery seeds).
How it works: each device comes with a core, a capsule, a fastener, a separator, and character tiles. By twisting the top, you'll remove the core from the capsule. Choose the character tiles and slide them onto the core one at a time, use separators to segment information if needed, place the fastener to hold the ties, put the core back into the capsule, and optionally you can use nail polish for a tamper-evident seal or even weld it closed if you want to create a fireproof barrier seal, the website says.
All Cryptosteel products are produced in-house, say the creators, and they are shipped to customers and resellers worldwide. The cheapest Cryptosteel Capsule option costs EUR 74 (USD 82) (you can in crypto, also), for which you'll get a device and a tile set (>800 tiles).
_____
Learn more:
How to Protect Your Absolute Crypto Lifeline - Seed Words
The Paper Wallet Debate: Are They Safer or Riskier than Other Wallets?
Turn Your Old Smartphone into Ethereum Hardware Wallet